The Best Podcasts to Learn German
Learning a language is about getting in as much practice as you can. When you are learning your first language as a child, that's pretty much the only thing you do (well besides sleeping, eating and producing various things for your parents to clean up!) and that is why you become so darn good at your native language!
As adults, however, we don't have the luxury of being ferried around in spacious, comfortable prams, dozing on and off as we listen and look in on the world, absorbing language like a sponge. Because of this, if we want to become proficient in a language, we have to put in the hours. And it's a lot of hours! To make the process a bit easier, we can sometimes trick ourselves into learning without realising it. A great way of doing that is by getting some of our input in such a way that it doesn't feel like we're putting in a lot of effort. Going to a language school or taking online lessons might take up time you don't have to spare. And that's where podcasts come in.
Listening to podcasts in German, much like listening to the radio in German, is a great way for us to get extra hours of listening input as adults while we are doing other stuff to try to match the time that children spend listening in on language (even if we will never actually match that). Because German is relatively close to English compared to other languages, this works rather well!
This list of podcasts for you to try out will be broken down into beginners, which will look at podcasts that begin at a complete beginner level and (usually) take you up to an intermediate level and those that assume that you have mastered the basics already. Let's dive in!
Free German podcasts for beginners
If you are just starting out, it is good to complement a good by listening to things to get a fee for the language, even if you don't understand a lot of what is being said yet. Nevertheless, there are some podcasts that are specifically for beginners and try to establish or reinforce the basics. Most are free to listen to, with extra features sometimes being free as well.
Learn German by Podcast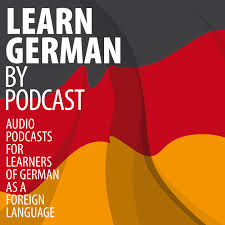 Learn German by Podcast is a website with a podcast that is a little bit dated but offers a solid start and a good taster for beginners that is short enough so as to make learning German appear to be a little less daunting. You can listen to the podcast episodes straight from the website on your computer or you can download them as mp3 files to listen to them on the go. With plenty of explanations in English, the 20 episodes in the series, lasting around 10 minutes each, are a great way for beginners to dip their toes and decide if German is for them. If that decision has already been made and it's a yes, it is also a good podcast to go through before taking on more ambitious, longer language learning adventures. Think of it as a warm up!
Coffee Break German (A1-B1)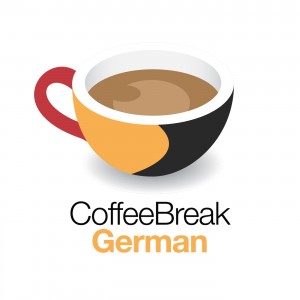 Coffee Break German is another great podcast series from the Coffee Break family. This time, otherwise language teacher Mark becomes a learner again as he is taken through the ropes starting at the very beginning by native speaker Thomas and encourages you to come along for the ride. Coffee Break German takes you from beginner to intermediate in bitesize, coffee break length, episodes that build on one another so that you can feel yourself progressing. Like the other languages in the Coffee Break family, Coffee Break German is pleasant to listen to and quite effective.
Deutsch Warum Nicht? (A1-B1)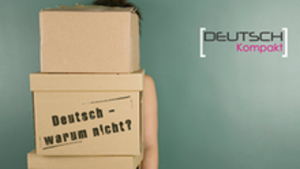 Deutsche Welle is truly a treasure trove for German learners and Deutsch Warum Nicht? is a great resource for beginners at all levels, whether just starting out or with a little bit of experience under their belts already. This podcast series is split into four parts and uses a story that evolves and becomes more complicated as your command of German improves. The story is set in Aachen and follows Andreas, a student that works part time in a Hotel to pay the bills and who might just suffer from a lack of sleep because he befriends a Heinzelmädchen, a kind of gnome-like little creature found in old stories set in Cologne, that usually only he can see and hear. With explanations in English and tips and tricks to learn German, along with downloadable pdf extras if you want to do more than listen, this podcast is truly gold!
Long Story Short by Chatterbug (A1)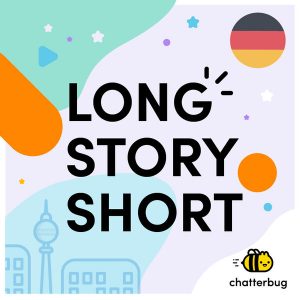 The first series of Long Story Short is an anthology series for A1 learners. Each story takes you on a different journey, where the protagonists must navigate their way through various social interactions and the miscommunications, surprises and new connections that follow. The short stories are then broken down through a discussion held by a German speaker and a German learner once the story has ended, so you don't have to worry about missing something. Each podcast episode ends with the segment Grammatically Speaking, where two German teachers give their top tips for understanding and remembering German grammar. All bases are covered to ensure you don't miss a trick. Series 1 is aimed at A1 learners but later series will cater to higher levels. You can also find the transcripts on our Chatterblog.
Slow German with Annik Rubens (A1-B2)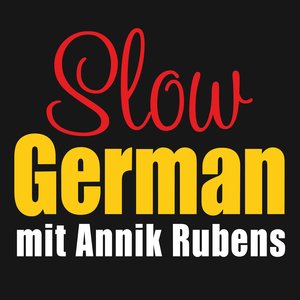 When you are a beginner, one of the hardest things about trying to listen to native speakers, particularly when they are talking among themselves is the speed at which they do so. It is often the case that you could understand a lot of what is being said but the sheer speed of the delivery means that you simply can't keep up. Slow German mit Annik Rubens takes this into account, particularly in its easier levels. Going from an introductory series for absolute beginners where there are English explanations so you can learn your first words, Annik takes you, in a slow and relaxed way, up to an intermediate level where she not only helps you learn the language but also talks about the Germany, its people and its culture to keep it interesting and mix things up a bit.
Podcasts for Intermediate Learners
If you have already been learning German for a while and you are looking for a bit of a change but want to keep on learning, the following are you. They all assume that you have a fairly solid grasp of German already and mostly do away with any explanations in English, so you'll notice that they are much more efficient in terms of the German listening time that they provide. Nevertheless, they still allow for the fact that the people listening to them, such as you, are not going to be native speakers.
Deutsch Wieso Nicht? (B1)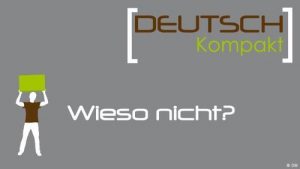 The next step up from Deutsch Warum Nicht? and also produced by Deutsche Welle, this podcast is more advanced, beginning at a B1 level, and completely in German. Deutsch Wieso Nicht covers a range of everyday situations ranging from lazy thoughts before getting up for breakfast all the way a village fest or politics in Germany and Austria in a clear and entertaining manner. A noticeable difference that this podcast has compared to the ones before it, is that right from the word go, it's only German! Another great thing about this podcast is that at the end of the episodes you are provided with a little exercise where key words are repeated slowly with a little pause for you to say them out loud as well.
DazPod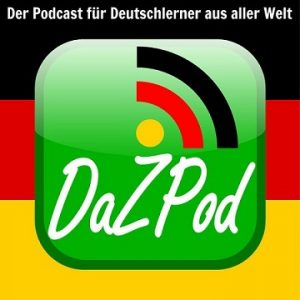 Aalso a 100% German only podcast without any explanations in English whatsoever, this is another example that older podcasts are sometimes worth checking out. With 50 episodes that present scenarios, DazPod is interesting and a bit of a challenge for those of you that are crossing into the uncharted territory of "no explanations" podcasts. To avoid explaining things in English, it uses repetition and synonyms to make the the point clear in German as you are learning it.
Langsam Gesprochene Nachrichten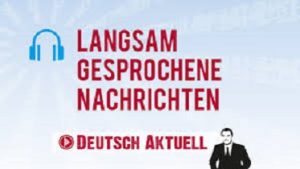 One of the tried and tested methods that many people use to learn a language (besides reading Harry Potter books!) is listening to the news in the target language. With German, it is very useful that there is a resource that involves just that, but catering for learners – Langsam Gesprochene Nachrichten again by, yes you guessed it, Deutsche Welle! Literally translating to "Slowly Spoken News", this is a great podcast that you can use to listen to the news (even if with a lag of a day or two) in the exact same words that are used in the normal news, but spoken slowly. And the best thing, it's completely free! If the news are your thing and you want to try something harder, the Tageschau, the German evening news, has also got a podcast of their programme.
Marktplatz (B2)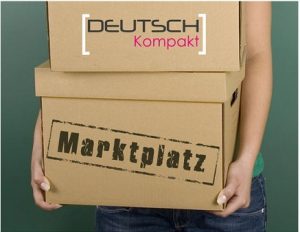 Conceived as a fun way to learn about German working culture and "business" German, this podcast is yet another from the fantastic range available from Deutsche Welle. Marktplatz is a little bit more advanced but still designed for people that are learning German, particularly those that want to work or do business in a German speaking country and already have a fairly solid command of German basics. Marktplatz episodes are a little bit longer, lasting around 25 minutes, but packed with content!
Authentic German Learning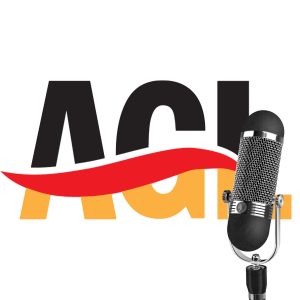 The Authentic German Learning podcast is part of a successful one stop shop website that includes it as one of many features and resources for learning German. Hosted by Marco Rösler, the theme that is followed while learning German is one of personal development, which gives it a fairly unique approach. Marco promises that not only will he help you to learn German, but that he will also contribute to your personal development as a person using an efficient, fun and interesting method that focuses on application in real life. His podcast is just a part of this of course, but it is definitely worth considering as an independent complement to any German language learning routine. Its TPRS (Teaching Proficiency through Reading and Storytelling) is best suited for intermediate learners.
The above were some of the best podcasts to learn German for beginners and for intermediate learners and a great complement to our German course, or any other course for you to try. Another excellent complement that we have put together for you here at Chatterbug is our media resources library and our German grammar section that you can access and use for free. There really are fewer and fewer excuses every day for "not having" time or resources! It is now easy and common to learn when working out, doing the shopping, on your commute… Pretty much anywhere really!
Want to learn more?
If you're feeling inspired, sign up below for a free two-week trial and a Live Lesson with a private qualified tutor to start speaking a new language for real! Our classes are structured around exercises created by language teachers, so there'll be no awkward silences – we promise! 😉
And don't forget to check out our Facebook, Twitter and Instagram pages for more language content!