7 Ways to Immerse Yourself in Your Target Language at Home
Does the title sound too good to be true? Well, it's not! It's often said that the best way to learn a language is through immersion – if you're surrounded by a language, you have no choice but to engage with it! You can't keep speaking English to someone in the hope that eventually they'll understand you (although some socked-and-sandled holiday-makers definitely try their best with this method). But maybe it's not that easy to get to the countries that speak the language you're learning. Maybe you don't have the funds or free time available. Maybe you're happy staying at home. There must be another way…
Luckily, there is! With a few simple tricks, you can immerse yourself in your target language at home. You can even stay in your pyjamas if you want!
What is the language immersion method?
Language immersion is, as you might have guessed, a method by which the learner is entirely immersed in their target language. This style of learning often takes place in Language Immersion Schools, which run programmes that take students abroad and are specifically designed to ensure your every waking moment is spent actively engaging with the language you're learning. The classes tend to take place in countries where the target language is spoken. But, of course, this isn't an option for everyone.
Why is language immersion important?
Learning to use a language in a real life setting prepares you to, well, use it in a real life setting. The benefits of language immersion are fairly immediate. While adults don't learn languages in quite the same way as babies, because they're translating rather than learning from scratch, language immersion works the same for all ages. The language learner is exposed to the language in an every day context, rather than in a structured classroom setting, meaning the language is learned in a similar way to how the student learnt their native tongue.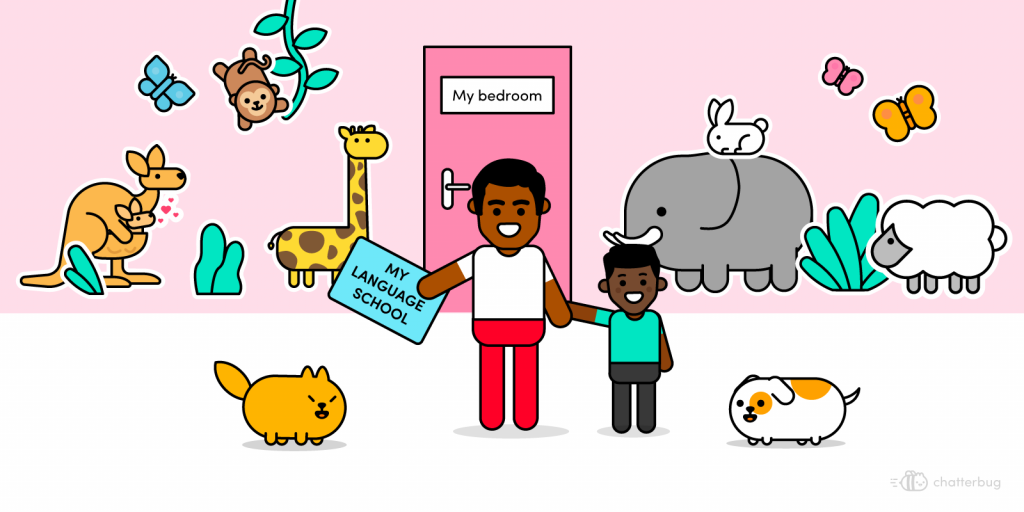 How can I do the language immersion method at home?
So now you know what language immersion is and why it's important, you must be wondering "How can I do it myself?" Well, let me tell you!
(Before we get to the list, here's a tip. Immersing yourself as best you can in a language won't work that well if you throw yourself into the deep end with no context. If you're A2 French, attempting to read the untranslated version 'Madame Bovary' for the first time is going to cause you nothing but stress. So when you try and find new learning materials, while the language might be new to you, you could choose content that isn't. If you're able to read, watch or listen to your favourite books, shows, films or songs in your target language, you'll find it much easier to follow what's going on. Chances are you will feel motivated too!)
1. Watch videos in your target language
An easy and enjoyable way to immerse yourself in the language you're learning is to sit back, put your feet up and have some telly time. Whether you use YouTube, streaming services or your TV, watching content in your target language is a great way to improve your listening comprehension, increase your vocabulary and have a bit of downtime while you learn.
Got a Netflix account? There's a great Netflix extension that allows you to change the audio language and subtitles to the language you desire, while having a second set of subtitles in the language you're learning from.
2. Listen to podcasts or radio in your target language
This is a great technique to do on the go, or when you're sick of staring at a screen. It seems like everyone has a podcast these days, so you can find a podcast on more or less any topic and in any language. While there are copious amounts of instructional podcasts to help you learn a language, if you want a challenge, you could try listening to a podcast about a topic of your interest, in your target language.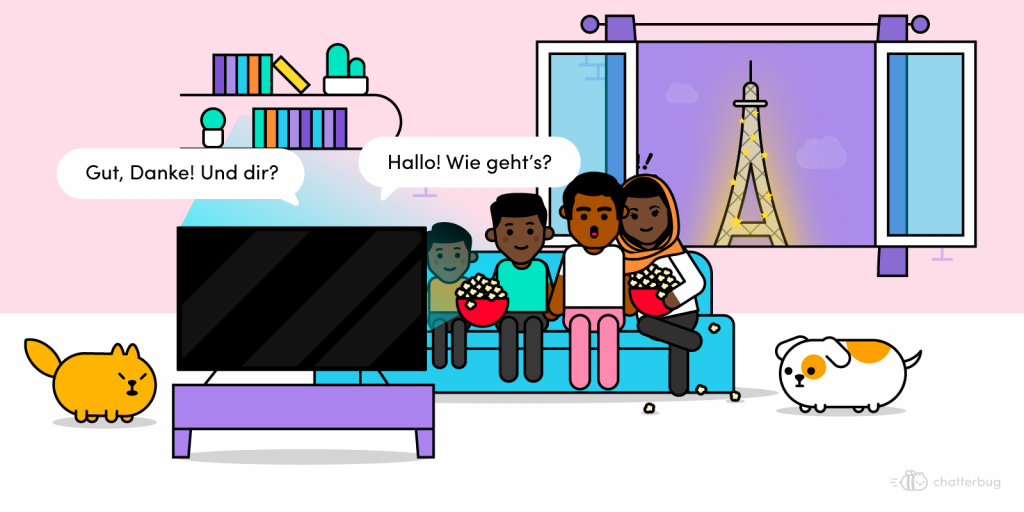 3. Find an online tandem partner
You can listen to podcasts and watch TV to your heart's content, but at a certain point you might want to give speaking a go. Save yourself a commute and find someone to chat with online! There are tons of websites for all sorts of languages. Finding a tandem partner is not the same as finding an online class. You don't need to pay, and you'll both take the role of teacher as you alternate between languages.
If you do decide to go down the tutoring route, you can sign up for a free trial at Chatterbug, where you can enjoy a Live Lesson with a qualified tutor. Impress yourself (and your tutor) with how much you can say!
4. Stick labels around your house
An oldie but goodie, putting labels on the objects is a cheap and quick way to familiarise yourself with new words. Pretend you're on holiday as you pour yourself some 'vino' into your 'bicchiere'. Ok, staring at a sticker on your TV that says 'televisione' isn't quite on par with staring at the Mediterranean sea with a cocktail in one hand and a book in the other, but it's probably more useful if you want to learn a language. Probably.
5. Read the news in your target language
Get up to date with current affairs so you can join in with office small talk over Slack, but with a challenge: read it in a different language. Not only will this be useful practice, you'll also have access to news that wouldn't be reported in your go-to news sources. You can also use this opportunity to increase your knowledge of the countries where people speak your target language by learning what's going on in them.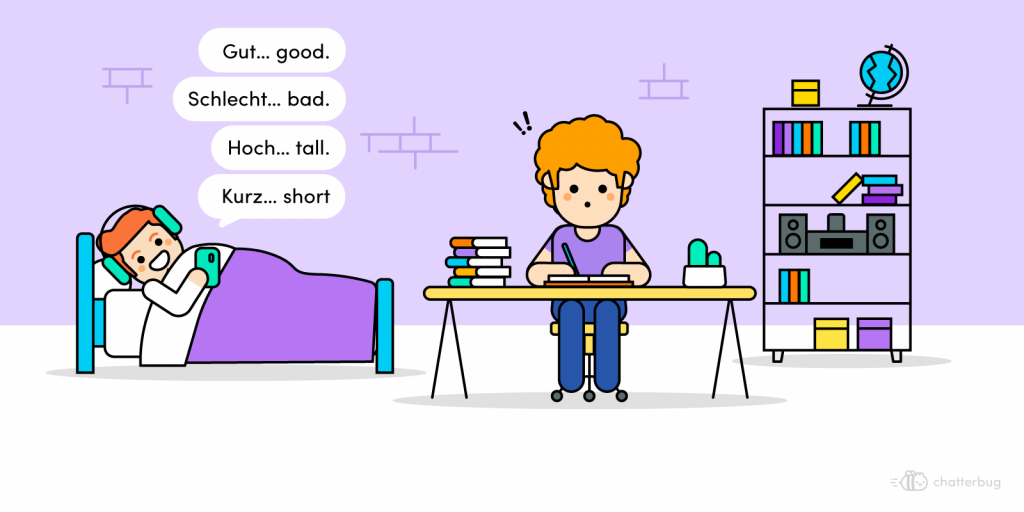 6. Listen to music in your target language
By listening to music in your target language you can simultaneously familiarise yourself with words and expressions and learn more about the cultures that speak (and sing!). It's also a fun way to update your playlists. Pop on some tunes, search for the lyrics online and sing along!
7. Switch your phone settings
You can use your phone for anything, and probably do for most of the day. Why not get some use out of it beyond aimless scrolling and switch the language settings to one you want to learn? This will give you a daily (and if you're as addicted to your phone as some, hourly) dose of your target language.
So there you have it! Immersion courses, while worthwhile, can be expensive and are time-consuming. By taking these immersive measures in the comfort of your own home, you can save money and time, whilst still reaping the benefits of language immersion. What are you waiting for?

Want to learn more?
If you're feeling inspired, sign up below for a free two-week trial and a Live Lesson with a private qualified tutor to start speaking a new language for real! Our classes are structured around exercises created by language teachers, so there'll be no awkward silences – we promise! 😉