Learn Languages for Free with Chatterbug Streams!
As the year draws to a close, you might be wondering what you can do to improve your language learning in 2022. If you've been google searching 'best way to learn a language' on repeat, chances are the top result is immersion. While this isn't a viable option for many, at Chatterbug we are offering you the next best thing…
What's new with Chatterbug Streams?
Louder for the seats in the back: It's free! We are dropping subscription fees and offering free live and on-demand video-based language learning courses. At the same time, we are launching Chatterbug Club, a new membership program for Streams students that encourages social language learning through in-app group language classes with Chatterbug tutors.
The Chatterbug Streams app is free and is available now to download for iPhone and Android. Subscriptions to the Chatterbug Club are available in the app, by selecting the "Club" tab.
Current subscribers to Chatterbug Streams and Chatterbug Lessons will automatically gain access to the full benefits of Chatterbug Club at no additional cost.
How can I learn with Chatterbug Streams?
Available in German, Spanish, French and English, Streams is for language learners who want to build confidence and comprehension skills, and is designed to prepare them for practical, real-life scenarios. Language learners get instant access to livestreams and on-demand videos hosted by highly engaging, native speaking Streamers, exploring real-world situations, telling stories, and diving into hobbies and other interests. An enormous catalog of video courses covers memorable scenarios such as cooking lessons, music, checking into a hotel, yoga practice, complaining to a landlord, apartment hunting, organizing a barbecue, film analysis… We've got you covered!
Chatterbug Club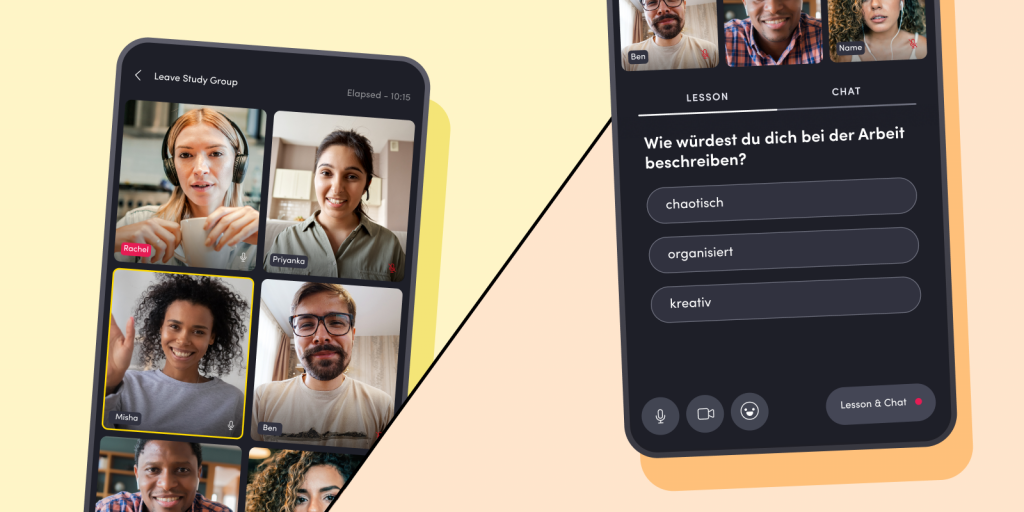 If you're looking for a deeper immersion, check out Chatterbug Club. With membership in the new Chatterbug Club, Streams students can further immerse themselves in language learning by joining social study sessions called Study Groups with other students at their level, led by experienced Chatterbug language tutors. Study Groups take place right in the app, and allow students to discuss videos, explore their questions and interests, and practice their language skills in a friendly and stress-free environment. There will be multiple Study Groups available throughout the day, every day, so Chatterbug Club members can find sessions that fit their language level, interests, and schedule. Chatterbug plans to roll out additional benefits, perks, and learning experiences to Club members in the coming weeks.
Scott Chacon, CEO and Co-Founder of Chatterbug: "One of the most difficult, and most satisfying, parts of learning a new language is gaining comfort with speaking and listening comprehension in everyday situations. While most language learning apps focus on rote vocabulary memorization and gamified flashcards, Chatterbug Streams helps language learners develop actual speaking and comprehension skills through free video-based language courses and daily livestreams highlighting real-world situations with fluent speakers. It's interactive, it's entertaining, and it works. "
Chatterbug Streams is a stepping stone to Chatterbug Lessons, the company's online platform for one-on-one video lessons with private tutors. Once Streams students demonstrate progression within the app, they are encouraged to try Lessons' one-on-one tutoring to practice conversing and to expand their fluency. Chatterbug Lessons has nearly 100,000 students in 75 countries and tutors in 30 countries.
About Chatterbug
Chatterbug is an online language learning system that launched in fall 2017. Created by the co-founders of GitHub, Chatterbug gives people a new way to learn to speak a language that combines the flexibility and simplicity of language learning apps with the effectiveness of attending an in-person language school. Chatterbug embraces the philosophy that language is best learned by listening to and interacting with real humans. Chatterbug offers two products: Streams, an app with live-streamed and on-demand video courses developed for language learners who want to build confidence and comprehension skills, and Lessons, private 1:1 tutoring via online video. To learn more about Chatterbug, Streams and Lessons, please visit www.chatterbug.com, or follow Chatterbug on Twitter and Instagram.