Introducing Chatterbug
Today we're announcing the public availability of a new online language learning system called Chatterbug.
Chatterbug is a new way to learn to speak a language that combines the flexibility and simplicity of language apps with the effectiveness of attending an in-person language school.
Where digital language apps can teach you some vocabulary, they will never help you to learn to have a real conversation, since practicing with real speakers is not part of their systems. On the other hand, in-person schools are effective at teaching you practical language skills, but they are highly inflexible, rarely nearby, prohibitively expensive for many students, and don't have modern digital tools for efficiently studying on your own.
Chatterbug aims to fill that gap, to provide a service that is as flexible, smart, and easy to use as a digital learning app, but will teach you real conversational language skills by encouraging you to practice what you're learning regularly with native speakers.
The Chatterbug System
Chatterbug is a comprehensive language learning system for the modern day. We have taken the best of the various approaches and philosophies of language learning and combined them into a single, unified system that intelligently adapts to you as you use it.
The first part of the system is self-study – learning the basic building blocks of a new language such as vocabulary and grammar. We have built tools based on the highly efficient memorization techniques) used by medical students to help you remember hundreds of new concepts quickly.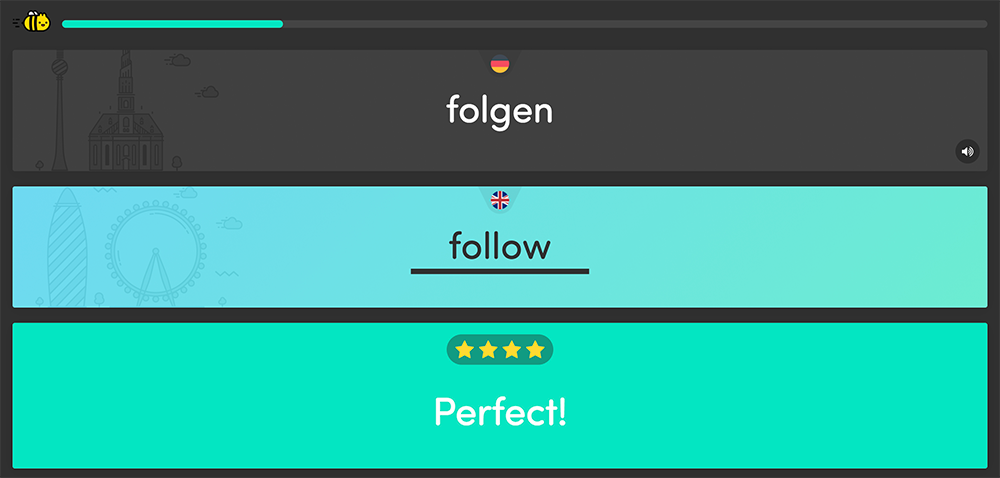 Once you have learned some new words and concepts, we then connect you with a native speaker with our cutting-edge video chat tools, where a customized curriculum tailored specifically to what you need to practice will guide each of your lessons.
Unlike language tutor marketplaces, which often rely on tutors to provide their own lesson plans, all of our curriculum material is included and fully integrated across the self-study activities and Live Lessons.
Instead of kicking you out to Skype or Adobe Connect and forcing you to look at a static PDF with your tutor, we have built our own custom interactive classroom software. Our digital classroom displays each exercise to you and your tutor, where you can see each others' cursors and mouse movements, type messages to each other, rate your progress, and more.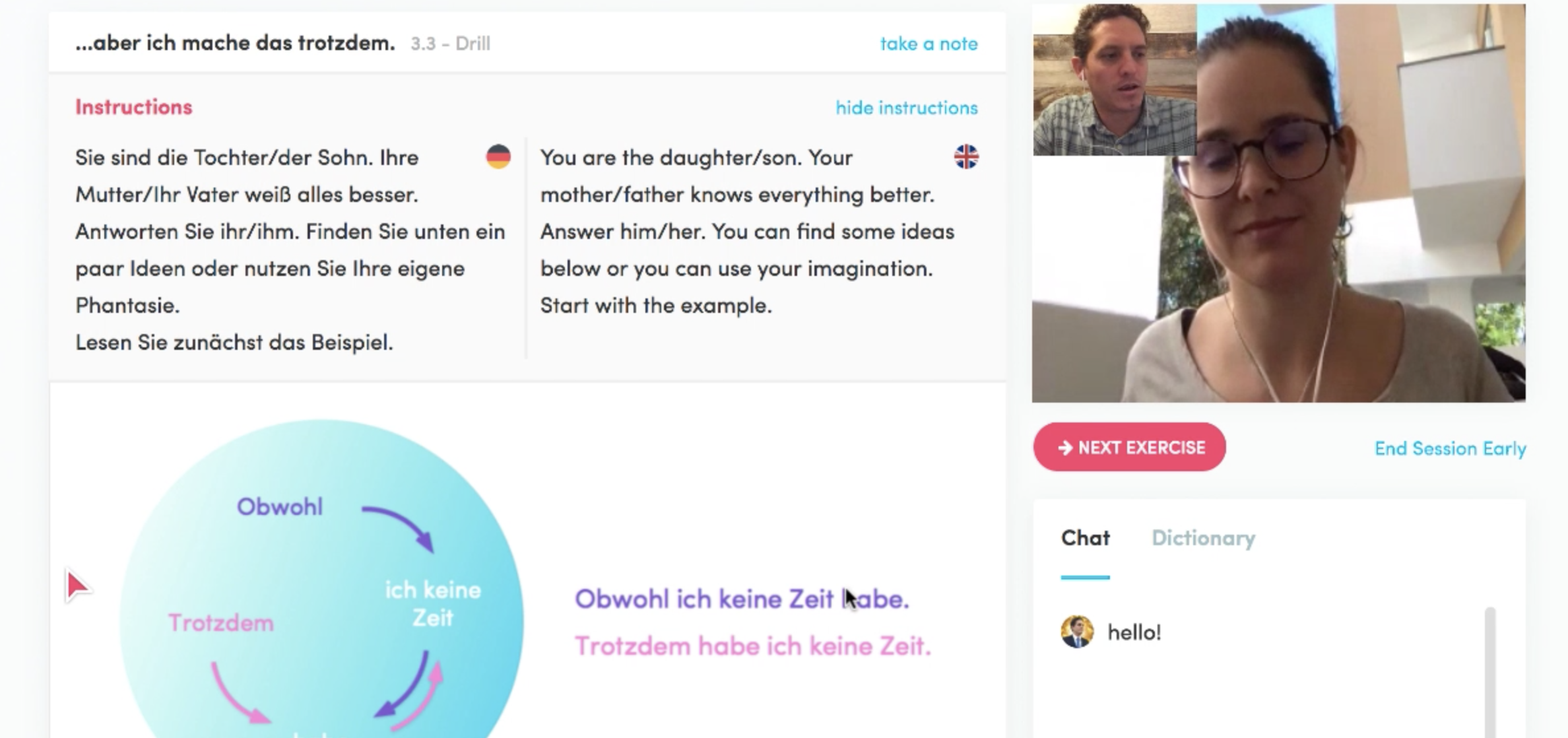 We've also taken all of the hassle and difficulty out of finding and scheduling a language tutor. You can simply select times on our availability calendar and we will match you with tutors that are available during those times.
Timezones are automatically taken into account and the start and end times of your lessons are all handled by our system for you. Just click the time slots that work for you, show up, and work through the exercises our system builds for you. It's as easy as that.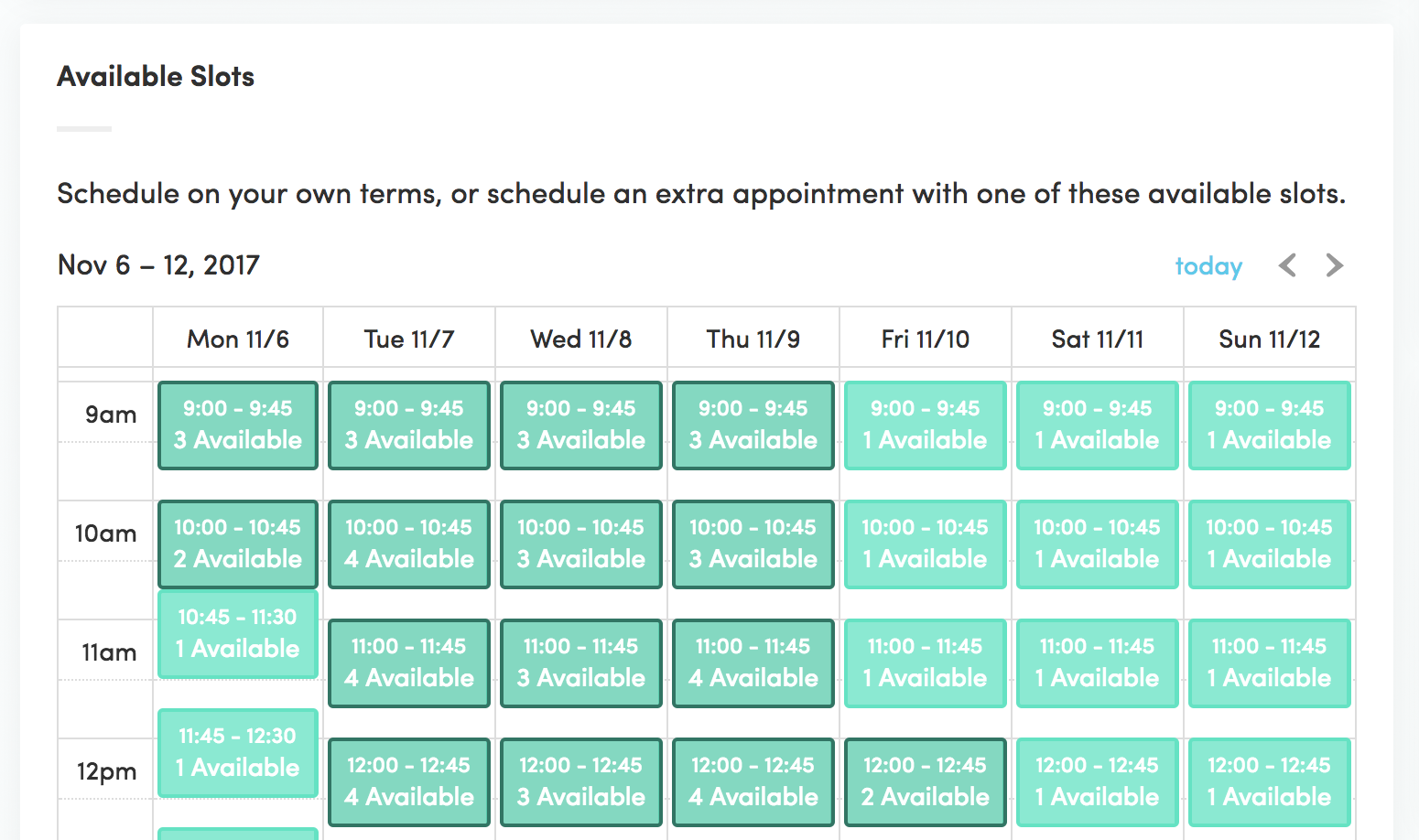 Unlike in-person classes you may have tried to take, learning with Chatterbug is all about you. Every lesson with a tutor is one on one, not with a dozen other students. There's no risk of falling behind the rest of the class if you need to miss a lesson or skip a week since our system adapts and picks up exactly where you left off when you come back.
As you keep using our system, it adapts to how you're learning. Words and grammar you remember easily are reviewed less often, and things you are struggling with are repeated more. We produce a custom lesson plan every class to help you spend time learning what you need to and practice what you've been studying. No two students take the same path in Chatterbug.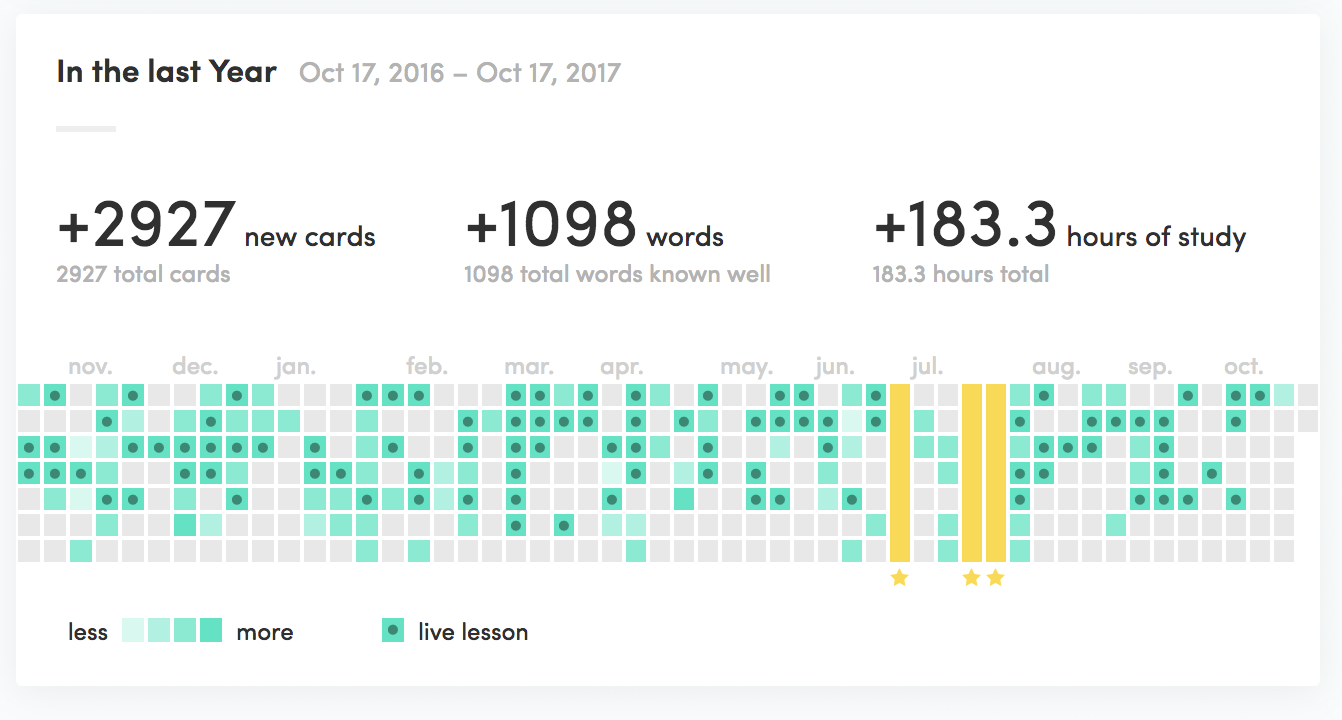 But Does it Work?
The problem is, you've heard lots of companies say that they're more effective than college courses or that you will learn to speak the language, yet have never met anyone who became conversational with these tools. You've probably tried one for a while, maybe even for months, but you still can't say anything understandable to a native speaker. How is Chatterbug any different?
Human beings tend to get good at what they practice. If you practice language games but never try talking with a person, you'll get pretty good at language games but never improve at speaking. With Chatterbug, you spend a lot of time speaking with people and so you can get comfortable doing so for real.
If you would like to see what it looks like, we have made a video of our CEO learning German with our system. You can watch him progress from not knowing a single word to being conversational using the Chatterbug system.
If you've tried digital apps but still can't string together a spoken sentence, or have given up on tutoring or group classes because they're too inflexible to stick with, then Chatterbug is for you. It has never been easier to learn a new language.
Chatterbug German Beta
Today we're happy to announce the general availability of our German Beta program for English speakers.
If you would like to learn German, you can start today by signing up for a 2 week free trial of our system. You can begin studying grammar and vocabulary with our digital learning tools and take one free trial class to try out what you've learned with a native speaker using our customized curriculum.
If you like the system, you can then subscribe to one of our plans at any time and start taking classes regularly to get genuinely conversational in your new language.
We will be announcing new languages in the coming months, starting with English. If you are interested in offering our German or English curriculum to your employees, please let us know. If you would prefer to wait for our French or Spanish courses, sign up here so we can let you know as soon as we're inviting people into those programs.
We're excited to be opening up our amazing new tools to everyone, and I hope you join us in learning to speak a new language for real.